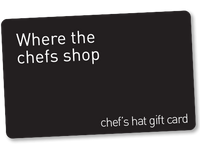 Spoil your loved ones with a chef's hat Gift Card
---
@chefshat
---
Latest Posts
Contact chef's hat
131 Cecil St
South Melbourne

Ph: +61 3 9682 1441
Or complete the provided form to contact us via email

Our Trading Hours are:
Monday- Friday: 9am to 5.30pm
Saturday: 9am to 4pm
Sunday: 10am to 4pm
CLOSED Public Holidays


Blog Archives
Blog Categories
Follow Us

Latest Tweets
Latest Instagrams
Latest Posts
Bulky Goods
Items listed as 'bulky goods' (BG) are classed as such for two main reasons;

1. They are large and therefore difficult and/or expensive to transport,
2. They may be technical in nature or have a number of options available.
Due to these reasons, there may be additional freight charges or some BG may not be available for online purchase.
Brands
Other products from this brand
PAN OMELETTE 20CM, LE CREUSET TNS
View Compare List
View Enquiry List
Go to Checkout
Description
Description
All Flip. No Flop.
An everyday hero, this shallow frying pan is a versatile essential. Coated on the inside with our best-ever non-stick coating, and a tough, easy to clean coated exterior, it's simple to use and is perfect for use on any heat source. With its clean lines and sleek looks, it makes a striking addition to your kitchen.

Features:
Great complements: reach new levels of flavour by complementing your favourite pan with glass lids that we have available separately.
A dream to clean: our Toughened Non-Stick offers excellent food release for oh-so-easy cleaning.
Our best-ever non-stick: tested, trusted and guaranteed for life, our non-stick is now 4x stronger. (It's been independently laboratory tested for metal utensil abrasion resistance.)
Strong to the core: its construction has been hard anodised to create efficient heat conduction and distribution for even cooking.
Lasts for longer: Our pans are abrasion-resistant, crafted to stay in your kitchen for years to come.
Healthier cooking: Our tough, PFOA-free non-stick surface can handle all types of frying – even without oil or fat.

Material: Forged Aluminium

CARE & USE
Cooking:
Stay protected – always use oven gloves when handling anything hot.
When cooking it is recommended to use Le Creuset Silicone Tools, wooden or heat-resistant plastic tools. Metal utensils should be used with care. They should not be used harshly or scraped over the non-stick surface. Avoid knocking metal utensils on the top rim of non-stick coated products to avoid damage. DO NOT use hand-held electric or battery-operated beaters or blenders, knives or sharp tools and implements inside non-stick coated pans, as they may damage the surface.
Use the product on the most appropriately sized hob ring — it'll make your food cook more evenly, and reduce the risk of damage to the handles and sides. This is especially important on induction hobs: if you use the wrong-sized ring, there's a risk the hob won't 'recognise' the product.
Cooking on a medium or low heat gets the best results — even for frying and searing. Let the pan heat up gradually for great tasting food that's cooked evenly. If you do need to use a high heat, lower the setting once the desired heat has been reached.
For fat-free cooking, preheat your product on medium heat for around 2 minutes. Then go ahead and add your food. Don't leave the product unattended or allow the dry non-stick surface to overheat. This could cause damage.
Cooking ingredients with a low smoking point (like olive oil) at higher temperatures can cause permanent damage to the non-stick surface and staining. Don't use spray-on cooking oils as they have a low smoking point.
For induction hob cooking, avoid using the 'boost' function as it should only be used for rapid heating large volumes of water.
Never slide the product on any glass-topped hob/stove top, as this may cause damage to the product base and the glass. Instead, always lift the product on and off, or across the surface.
When using under the grill, always allow at least a 6.5 cm (2 ½ inch) gap between the heat source and the top of your product.
For best results, place your product on a shelf or rack. Never place your product on the floor of your oven – it can increase the cooking temperature, leading to faster, uncontrolled cooking which could cause damage.

Cleaning:
Always cool the product for a few minutes before cleaning. Do not plunge it into or fill it with cold water when hot, excessive surface temperature changes may damage the product.
We recommend washing by hand in warm, soapy water rather than cleaning in the dishwasher as this will help the non-stick surface last longer.
Do not use abrasive cleaning agents or metal, harsh abrasive or very stiff cleaning pads or brushes on any of the surfaces.
Shipping & Returns
Permission to Return and to Receive Credit
We will accept return of merchandise ONLY IF IN SALEABLE CONDITION and notification is within 7 days of receipt .We will Issue Credit to your account or Credit Card in Australian dollars. For unwanted merchandise the cost of return shipping shall be the responsibility of the customer.

Damaged or Incorrect Merchandise
We will, upon your request, replace any merchandise that is received in damaged condition or as a result of a picking error. No material will be accepted or replacements issued without prior approval to return such merchandise. Filing of claims will be our responsibility.