13 Best Chef Knives 2021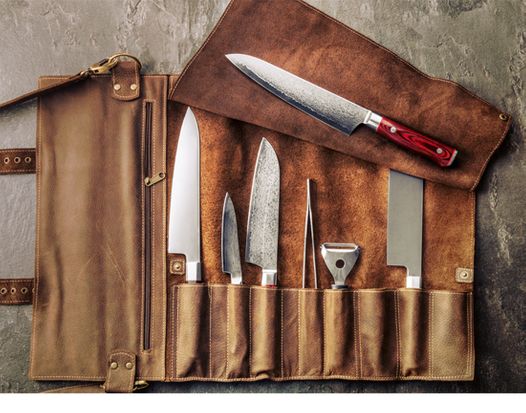 13 Best Chef Knives 2021
Knives are one of the most important tools a chef can have in their arsenal. And you want those to be high-quality knives that can withstand your daily work. But with a variety of types of chef knives on the market, it is difficult to know which is best. Today we are going to go over the 14 best chef knives of 2020 and why you need them in your arsenal.
Victorinox Chefs Knives are our first in the top chef knives of 2020. They set the industry standard for sharpness. These high carbon, stainless steel knives and are hand finished in Switzerland by Victorinox. There they use a special tempering process to produce the best chef knife in the world. It is ideal for both professional chefs and home cooks. It has a uniquely molded fibrox handle that makes the knife one of the most ergonomic in its class.
The Shun Engetsu 20th Anniversary Chef Knife is an exclusive, limited-edition knife. It features the Engetsu's beautiful design, special material properties, and technically complex production process. Shun once again delivers an innovative masterpiece of Japanese ironwork. An artful "full moon" design patterns the Damascus layers, visible on this highly polished blade. It looks impressive combined with the stunning blue-black handle. Further, the blade consists of two steel grades to create a blade with exceptionally durable cutting performance.
The Wusthof Ikon is the perfect all-rounder and one of our top-rated chef knives and the best budget chef knife. It is ideal for mincing, chopping, and cutting meat, fish, vegetables and fruit. The Cooks Knife is an essential part of your tools in the kitchen, making food prepping not only easy but pleasurable as well. It is the perfect addition to both the professional chef and the home cook's arsenal. Finally, the half bolster, reduces the weight of the knife, making it easier to handle. It also allows the entire blade to be sharpened more easily.
Fiskar's Asian cook's knife is part of their functional form knives set. They are designed to work perfectly together, functionally and visually. As a result, they make cutting and cooking a joy, while providing you with stunning, matching knife sets for your décor needs. These knives have been developed for everyday use in the kitchen, with special focus on ergonomic design, functionality, and safety. They also include the Softouch® handle with a finger stop to ensure a secure, comfortable grip. The sharp high-quality blade is easy to re-sharpen and is made of high quality Japanese stainless steel. Asian knife with broad blade making it a brilliant all-rounder for preparing meat, fish and also vegetables.
Ivo's series 50000 Professional Chef Knives are manufactured from German tempered, stamped, stainless-steel blades with a razor-sharp cutting edge. They are the best chef knife under $50! It is easily re-sharpened to its original state. The handle features the right mix of polypropylene and santoprene for a comfortable grip. They are designed specifically for commercial needs and applications.
Hand finished for precision and beauty, the Kai Shun classic chef's knives are ideal for those making their first foray into the Japanese knife market. They feature a sharply angled cutting-edge that is known for its sharpness and edge retention. It has 16 layers on each side of high carbon stainless-steel creating a beautiful Damascus pattern while protecting the knife from rust. It is considered a first-rate cutting edge and has durability born from the extra strength V-Gold10 super steel clad Damascus steel.
Further, the handle features a woodgrain pattern that reduces friction when cutting. It fits firmly in the hand which increases control and stability. It takes its shape from chestnuts to improve fit and stability. The knife is waterproof and durable, and also possesses the sensitivities of natural wood.
The Kai Shun Classic Chinese chefs knives feature a sharply angled cutting edge known throughout the industry for its sharpness and edge retention. It is VG-MAX clad with 16 layers on each side of the high carbon stainless steel. The 32 layers of special alloy create the beautiful Damascus patterns Shun knives are renown for. It also protected from rust and has an incredibly sharp edge. This first-rate cutting edge and durability are born from the innovative V-Gold10 super steel clad with Damascus steel.
Further the original D type handle is praised by chefs around the world. It fits firmly in the hand, increasing control and stability. The overall shape is inspired by chestnuts and features a woodgrain pattern that reduces friction when cutting. Shun knives are not only waterproof and durable but possess the sensitivities of natural wood.
These stunning, professional chefs knives have been ground down to a thin profile to create one of the sharpest German knives on the market. The Olivia chef's knife line is the thinnest, sharpest Messermeister chef's knife series to date.
The blade is shaped so it can peel, trim, slice, dice, chop, mince, cut vegetables and meat, and fillet fish. Each part of the knife is designed to perform a different task, making this the flagship of cutlery. Each knife handle in the Olivia line is unique and made from beautiful, Italian olive wood. No two handles are identical, making these boutique knives truly one-of-a-kind.
They are one-piece, fully forged knives, with a hand-polished blade and bolsterless edge. They are also ergonomically designed and 100% handcrafted in Solingen, Germany.
Chef's knives are the most-used knives in the kitchen. And like most cooks, you want to find a knife that feels like an extension of your arm. As a result, Shun has created the stunning Premier range. This breathtaking range of chef's knives are lightweight, agile and offer an extremely comfortable grip. These thin blades make the knife lighter and less tiring to use in comparison with European-style chef knives. The blade is razor-sharp and perfect for slicing, dicing and chopping fruits, vegetables, meat and other foods.
The wider blade keeps your knuckles off the cutting board and comes in handy when transferring cut food from board to pan. And with its curved belly, the Premier can be gently rocked through fresh herbs or spices to produce a fine mince.
These knives are designed after the hand-forged knives of ancient Japan. Each knife takes at least 100 handcrafted steps to complete making them the most advanced knives in the industry. Each blade has a cutting core using Shun's proprietary VG-MAX "super steel" to take and hold a precision edge.
Finally, the layered Damascus cladding supports the core and provides additional stain resistance.
The Tamahagane San line perfectly combines elegance with utility. The three-layer (sanmai) construction with VG5 core is heat-treated to perfect hardness, giving the knife very strong edge retention. The bevel is hand sharpened and polished, giving the edge an unmatched sharpness.
The outer layers of this beautiful chef's knife are comprised of soft, stainless-steel that gives a beautifully hammered, matte finish. Combined with stabilised wood handle, integrated bolster, the San is the perfect addition to both the commercial and private kitchen.
The Sakai Jikko is Kaz's signature knife brand. Established in 1901, Jikko has more than 100 years of Japanese knife making technology. Beloved by professional chefs due to their superior sharpness and durability, Jikko has made hundreds of thousands of knives since 1901. A Gyuto knife, the Ginsan series utilises rust-resistant Silver-3 steel. This model's sharpness is comparable to carbon steel knives and is strong to rust. It is ideal for those who prefer knives with great sharpness as well as effortless maintenance.
Mundial's Classic chef's knife is the professional chef's choice when it comes to cutting and chopping, it provides a unique rocking motion when held by the handle and resting the fingers of the other hand on the tip of the knife. The blade and tang are inseparably forged into one piece of stainless steel for optimum weight and balance.
The ergonomically designed handle is permanently bonded to the tang via three pairs of specifically designed rivets. To keep Mundial knives sharp, we recommend the frequent use of quality sharpening steel and hand washing only.
And finally, the Miyabi Birchwood Chef's knife is a sturdy, heavy kitchen knife with a broad and strong blade, featuring a fine cutting edge. An all-rounder for professionals and hobby chefs alike, it is suitable for chopping herbs, cutting vegetables, and slicing and dicing fish and meat.
This range combines the greatest in hardening technology, the most precious knife materials and the artistry of Japanese knife craftmanship. The core of the SG2 super steel blade is protected by a 101-layer of stunning flower Damascus pattern that undergoes a four-step hardening process to maximise the properties of the steel. This makes the Miyabi our leading choice for best chef knife of 2020.